2023 End of Year Ways to Give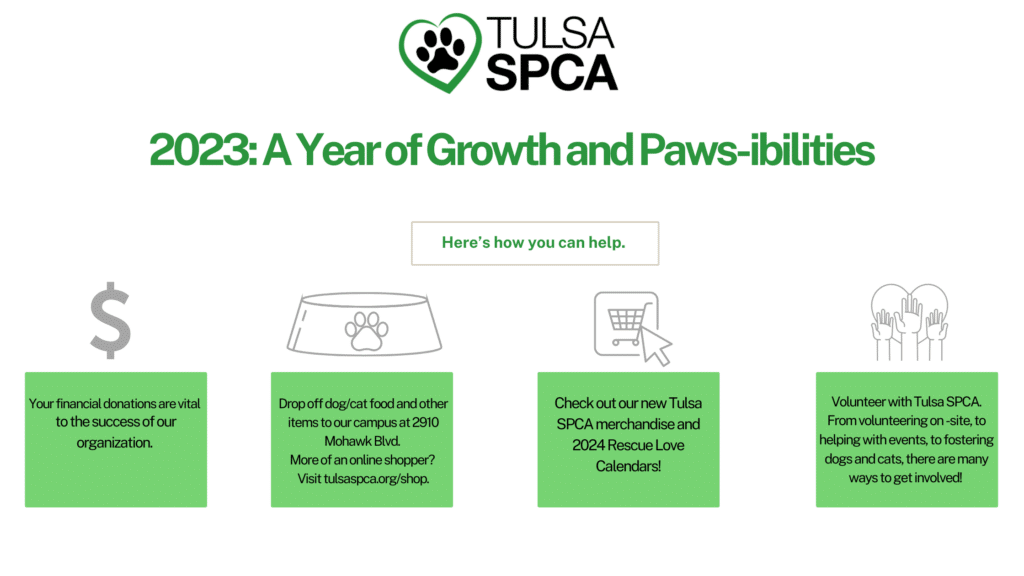 At the Tulsa SPCA, our mission is to improve the lives of dogs and cats, and their human companions. This year has proven to be a year of remarkable expansion. We've expanded our staff by 30%, allowing us to multiply our endeavors with efficiency and coordination. We also acquired 22 acres of adjacent property just south of our campus. In addition to giving our Administrative team a new place to office, the ample land gives even more space to adequately plan for the future of our organization. This year we also completed a new 3-5 year Strategic Plan, ensuring continued success for years to come. Lastly, we are thrilled to have fostered continued collaborations with Tulsa Animal Welfare, Meals on Wheels, DVIS, The Spring, and many other organizations. For these reasons and many more, we believe it's safe to say 2023 has truly been a year of growth and paws-ibilities.
As 2023 comes to a close, we would love to see this growth and these paws-ibilities continue. Now more than ever, our community needs us. And we need you. Please consider supporting us in the following ways:
Financial Donations
Your financial donations are vital to the success of our organization. To make a donation, click here.
Merchandise 
Have you purchased your Tulsa SPCA swag yet? We have 7 new designs to choose from! These can make fantastic end-of-year gifts for you, your family, and friends! Click here to view the store from our friends at Reach Clothing.
Calendars
It's hard to believe 2024 is right around the corner! Don't be caught unprepared. Purchase a 2024 Rescue Love Calendar today! Calendars will also be available at a variety of vendors. Click here to learn more.
In Kind Supplies 
As you can imagine, we are in constant need of supplies and in kind donations to keep our operations running smoothly. To learn more about our needs, click here.
Volunteer
Much of our success is thanks to a fantastic team of volunteers who assist us year-round. Looking for a great place to give your time and talents? Click here to get the details.
Let's finish 2023 strong! We are incredibly grateful for your generous support. If you have additional questions, feel free to reach out to Lori, our VP of Philanthropy and Communications at giving@tulsaspca.org. Together, we are making a difference. Together, we are changing lives.