Importance of Medical Funds
March 14, 2021

Separation Anxiety Disorder
May 10, 2021

Tulsa Society for the Prevention of Cruelty to Animals (Tulsa SPCA) named its low-cost veterinary clinic after a couple who donated one of the largest gifts in its history. Through an estate gift, John R. and Patricia Arend donated $1 million to the Tulsa SPCA.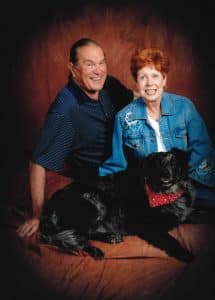 John R. Arend was the former founder and president of Inter-Chem, an international chemical trading company based in Tulsa. Prior to starting his own company, Arend spent 10 years on the West Coast with the FBI and five years working as a troubleshooter for Continental Oil Co. in Houston. He was notorious for projecting principles grounded in books such as "Think and Grow Rich" by Napoleon Hill and "The Power of Positive Thinking" by Norman Vincent Pale.
Patricia Arend, fondly known as Tricia, was actively involved in the Junior League of Tulsa and Asbury Methodist Church. She was also a long-time member of Southern Hills Country Club and a board member of Resonance, Hillcrest Hospital and, 12&12. A strong advocate for the Child Abuse Network, Brush Creek Ranch, women's support groups, and so much more, Tricia leaves behind a legacy of philanthropy that will not be forgotten.
Tulsa SPCA Executive Director, Mindy Tiner, among other staff, are humbled to be a part of their legacy and honored the Tulsa SPCA was chosen to be a steward of John R. and Tricia's generosity.
"The stories of John R. and Tricia's life are incredible. By any measure, they had many successes. Most telling to me is how generously and unhesitatingly they gave to others. The Arends had a soft spot for those in need, including animals like their dog Rags who was rescued from under a house after John R. realized he had been abandoned. While any generosity is admirable, Immanuel Kant said, "We can judge the heart of a man by his treatment of animals." Rags' rescue and subsequent life with the Arends was a shining example of their generous heart. John R. and Tricia's legacy of service and altruism will continue as their incredible gift will help save thousands of lives for years to come," said Tiner.
The Arend Clinic is a high-quality veterinary clinic providing low-cost services to the Tulsa community. Services include vaccinations, spay/neuter surgery, microchipping and preventative care. It exists to not only serve the animals in the Tulsa SPCA's care but those who need medical support for their pets at an affordable cost. It ensures financial obstacles are not a barrier and every animal has the opportunity to be treated.
The Tulsa SPCA is immensely grateful for the Arend's kindness and knows it will make a meaningful difference for cats and dogs in the Tulsa community.