The cost per microchip is $10 per pet and ID tags are available at $5 each. Contact the Tulsa SPCA at 918-428-7722, ext. 1024 for more information. Prices subject to change. Posted prices are current as of June 3, 2020.
The Tulsa SPCA uses two microchipping services. Your pet's microchip will be registered, and you can learn more if you visit your registry's website. If you adopted your animal from Tulsa SPCA or bought microchip services in our clinic, check Michaelson Found Animals Foundation.
General Microchip FAQs
Q: Why should I microchip my pet?
A: Registered microchips give lost pets the best chance of returning home. One in three pets become lost at some point during their life. A study published by the Journal of American Veterinary Medical Association found that only 22% of lost dogs are reunited with their families. However, the return-to-owner rate for microchipped dogs is more than 52%. The same study found that less than 2% of lost cats that enter animal shelters were reunited with their families. The return-to-owner rate for microchipped cats, however, increased to more than 38%.
Q: Why should I microchip my pets if they already wear collars and tags?
A: Collars and tags can be removed or get lost and tattooing can become illegible over time. Microchips are the only truly permanent method of identifying your dog or cat.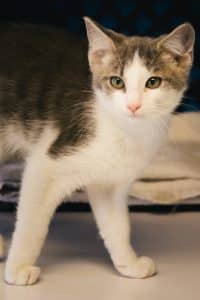 Q: Why should I microchip my indoor cat?
A: Cats are naturally curious and unpredictable. If your cat strays from the safety of your home, a registered microchip is your cat's best chance of a fast return.
Q: What size is the microchip? Where is it located on my pet?
A: Your pet's chip is smaller than a grain of rice. It is biocompatible and safe. It is located on the back, deeply under the skin between the shoulder blades.
Q: How does the microchip scanner work?
A: The scanner sends a quick radio signal to the chip. The pet feels nothing. When the chip number appears in the scanner window, the shelter or veterinarian will then contact your microchip company to find the registered owner connected to the microchip number. The reader is a universal reader designed to scan and detect both ISO compliant and non-ISO compliant microchips.
Q: Can anyone with a scanner access my contact information from the chip?
A: Microchips carry only a unique identification number, not your personal contact details. If your pet gets lost and is taken to a veterinary clinic or animal shelter, your pet will be scanned for a microchip to reveal his/her unique ID number. That number will be called into the microchip company, and you will be contacted using the contact information we have on file. It is vital to keep your contact information up to date so that you can be reached. Your contact information will only be given to the finder of your lost pet if you have given the company consent to do so.
Q: How does microchip work?
A: When the microchip company receives a call about your pet being found, they record the finder's details and then place them on hold while we try to reach you using your home, cell and work telephone numbers. Once you're on the phone, they connect you with the finder, with your permission.
Q: If someone finds my pet, how will they know to call the microchip company?
A:Some microchip companies provide pets with a plastic collar tag that features your pet's unique microchip number and the microchip company's toll free number. If your pet is not wearing their tag, or if the tag is broken, scratched or weathered, the finder should contact a veterinarian or humane society to get your pet's microchip scanned so the company can contact you immediately.
Q: What do I do if my pet is lost?
A: If your pet goes missing, call your microchip company first.
Q: Do I need to re-register my microchip annually?
A: This depends on the microchip company. Visit their website for more information.
Q: Can I change my information if I move?
A: Yes. We recommend that you stay in touch with your microchip company to keep your contact information current! Don't wait until your pet is lost.
Donate to the Tulsa SPCA today!
It is that time of year when generosity towards the Tulsa SPCA benefits both you and the organization.