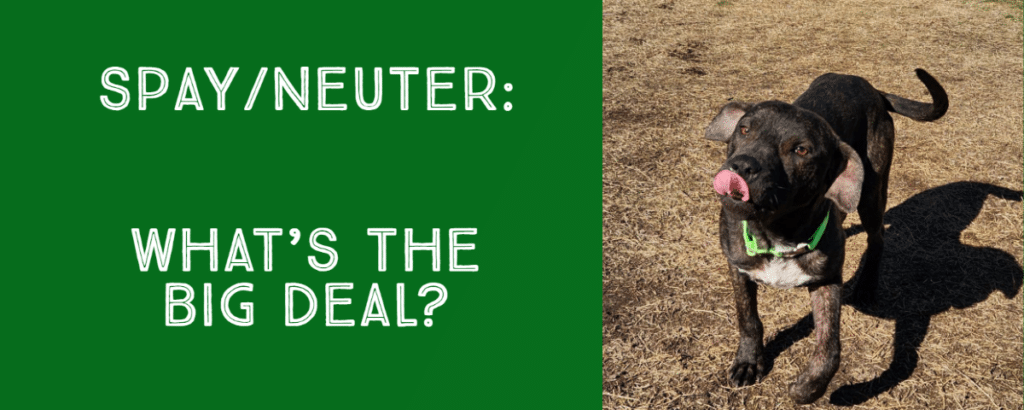 The French poet Anatole France remarked, "Until one has loved an animal, a part of one's soul remains unawakened." The profundity of this musing underscores a deep truth in our humanity—that we share a soul connection with our pets; that we would do anything for them, asking nothing in return. I found myself in this situation fairly recently when bringing our 2 family dogs from Barranquilla, Colombia to Owasso, Oklahoma. After months of CDC approvals, import and export documents, and tons of other paperwork, we successfully brought our furry friends to our home. While there were many items to check off the list during this process, one that was explicitly encouraged by two veterinarians, the US government, and the Department of Agriculture, was that our dogs be spayed or neutered. One hearkens back to Bob Barker at the end of Price is Right every weekday morning encouraging us to spay and neuter our pets—but the question remains: why is this so vital?

It is well known pet overpopulation is a problem in every community all over the world, but just how big is the problem? According to the above graphic, courtesy of Mostly Mutts, one pair of unspayed/unneutered dogs and their offspring can create 67,000 dogs in just six years! For cats, that number is 420,000. If your reaction was anything like mine, you might need to close your mouth after your jaw hit the floor. The sad reality is many of the aforementioned offspring become homeless animals. According to In the U.S., there were 5,400,000 homeless cats & dogs entered into shelters in 2022 alone. PETA estimates that there are around 70 million strays in the U.S. at any given time! By spaying and neutering your beloved pets, you help significantly reduce these numbers, ensuring dogs and cats are in loving homes.
For those worried about negative effects due to spay/neuter surgeries, fear not! Erin Johnson, the Tulsa SPCA Clinic Manager, commented, "There are a myriad of health benefits to sterilizing your pet besides eliminating the possibility of reproducing." Examples include:
Spaying nearly eliminates the risk of breast tumors, which are malignant or cancerous in about 50% of dogs.
Spayed female dogs live 23% longer than unspayed female dogs.
The urge to spray is extremely strong in an intact cat, and the simplest solution is to get yours neutered or spayed by 4 months of age before there's even a problem.
Neutering prevents testicular cancer and problems with the prostate gland.
Neutering greatly reduces their risk for perianal tumors (at or near the anus).
Neutered male dogs live 18% longer than unneutered male dogs.
Now, more than ever, spaying and neutering your pets is crucial. Can they count on you to take this important step for their healthcare? If you are worried about costs, please reach out to us! We offer affordable spay/neuter surgeries at our low-cost clinic. To make an appointment with us, you can do so at tulsaspca.org/spayneuter or by calling our clinic at 918-428-7722.